Carrier ESS Proposal System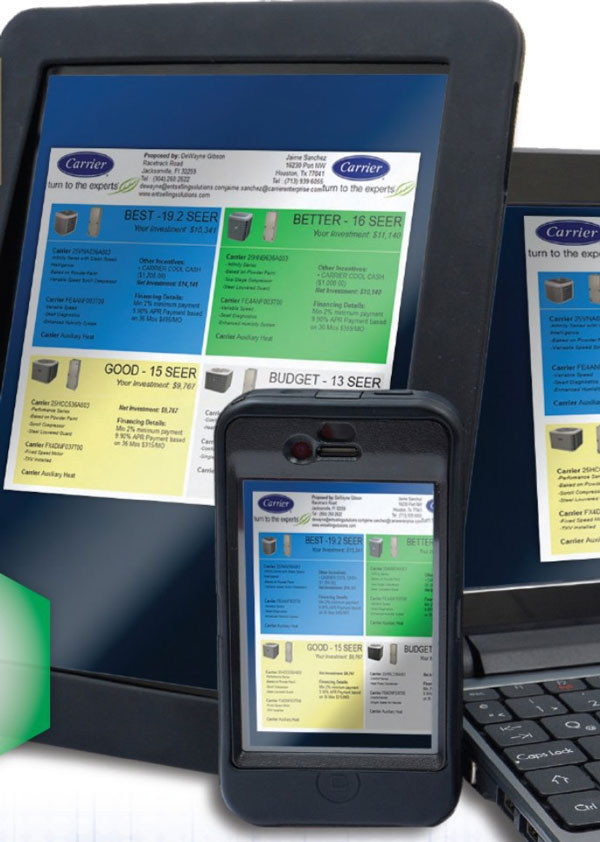 Carrier's new Electronic Selling Software Proposal System is a web-based proposal software program that provides your customers four options (Best, Better, Good, Budget) to buy on a single proposal with virtually unlimited flexibilty of heating and cooling equipment, description of HVAC products and services, gross margins, commissions, buy-downs, credits and rebates.
The system is web-based so it is always current, synced, and in real time. All proposal features are customizable and you can stream product and upgrade videos.
Dealers who use the ESS Proposal System:
Win 12.5% more jobs
Sell above the budget 93% of the time
Sell the better or best system over 73% of the time
Increase their average sales by 21%
The proven no-fail system also offers live technical support and sales training.
Become a Carrier Dealer Today ...
... And start reaping the benefits:
Co-op Advertising
Carrier Dealer Locator
FAD Radius Marketing
FAD Program Discounts
Annual Incentive Trip
iPhone and iPad apps
Contact us today.