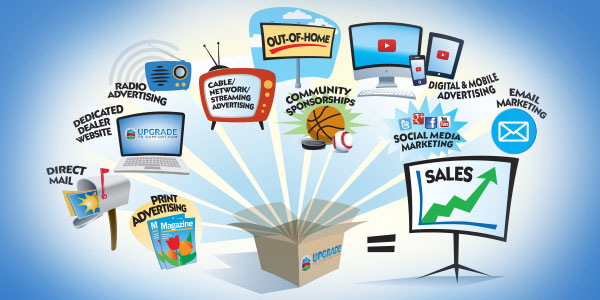 Upgrade To Comfort is a 12-month multi-media marketing program that offers customized advertising campaigns at deep discounts to support RJ Murray's local Carrier dealers.
The Program offers you a multitude of customized advertising options at less than 70% of the cost if purchased individually and extends the reach and effectiveness of your company's own marketing efforts.
Any authorized Carrier dealer within RJ Murray's service territory may join the Dealer Program, which is offered on a first-come, first-served basis until funding is depleted.

Talk to us about how we can help tailor marketing options to support your own advertising efforts and sales goals. Contact your Territory Manager for more information.
The marketing program is focused on:
Generating qualified leads for our Carrier dealers
Promoting and building awareness of individual Carrier dealers
Educating consumers and driving their online search to Carrier dealer links
Building awareness of the Carrier brand
Providing affordable dealer participation cost
Components may include:
12-month ongoing SEM marketing
Print advertising
Digital/Mobile advertising
Television/Cable advertising
Radio advertising
Consumer website featuring dealer pages with interactive map and listing
Community sponsorships and contesting opportunities
Content marketing
Direct mail campaigns
Outdoor advertising
SEM
Join Upgrade to Comfort: The Northeast Carrier Dealer Network. Call 690-4455 or contact us today.
Become a Carrier Dealer Today ...
... And start reaping the benefits:
Co-op Advertising
Carrier Dealer Locator
FAD Radius Marketing
FAD Program Discounts
Annual Incentive Trip
iPhone and iPad apps
Contact us today.