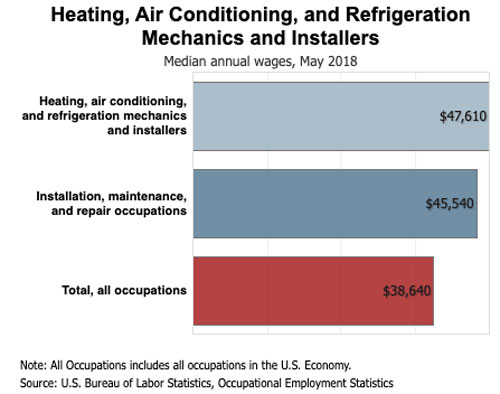 Job opportunities for Heating, Ventilation, Air Conditioning & Refrigeration (HVAC-R) technicians are anticipated to be good as there is a lack of skilled labor and the industry is currently facing an unprecedented workforce shortage.
That means there are ample opportunities for qualified HVAC technicians, mechanics, and installers who have the right training and certifications under their belts. In fact, Indeed (Nov. 2018) had 1,015 job postings for HVAC workers in New York alone.
Employment of heating, air conditioning, and refrigeration mechanics and installers is projected to grow 16 percent from 2018 to 2028, much faster than the average for all occupations.
Average median pay in 2018 was $47,610 - almost $10,000 more when compared to the average median pay for all occupations.
New construction of commercial and residential buildings is expected to drive employment growth along with an increase in demand for HVAC-R technicians with expertise in the installation and repair of today's sophisticated climate-control systems.
Repair and replacement of heating and cooling systems is another large part of an HVAC technician's job. With a growing emphasis on energy efficiency and pollution reduction, the demand for HVAC-R techs is likely to increase as home comfort systems are retrofitted, upgraded, or replaced entirely.
Looking for find out more? Here are some helpful links:
Capital Region BOCES HVAC Training and Certification for Adults
Capital Region BOCES HVAC Training for Students
HVCC Heating/Air Conditioning/Refrigeration/Technical Services Degree Program
Washington/Saratoga/Warren/Hamilton/Essex (WSWHE) BOCES Career and Technical Education (CTE) For Adults and Students
Associated Builders and Contractors
North American Technician Excellence (NATE)
Plumbing, Heating, Cooling Contractors Association
Have you completed your coursework and are looking for an apprenticeship to get started? Contact any one of the expert contractors with your questions. They'll be happy to assist you.
Or find out more here: Apprenticeship information from the US Department of Labor
Looking to get out of the field? Consider a career with RJ Murray.