HVAC Parts & Supplies Product Lines
No matter the brand of HVAC equipment you are working on - we have the parts and supplies you need!
RJ Murray stocks a vast array of residential and commercial heating, cooling, and ventilation equipment, products, parts, and supplies. You can access and purchase the parts and supplies you need at our warehouse locations or via our online store.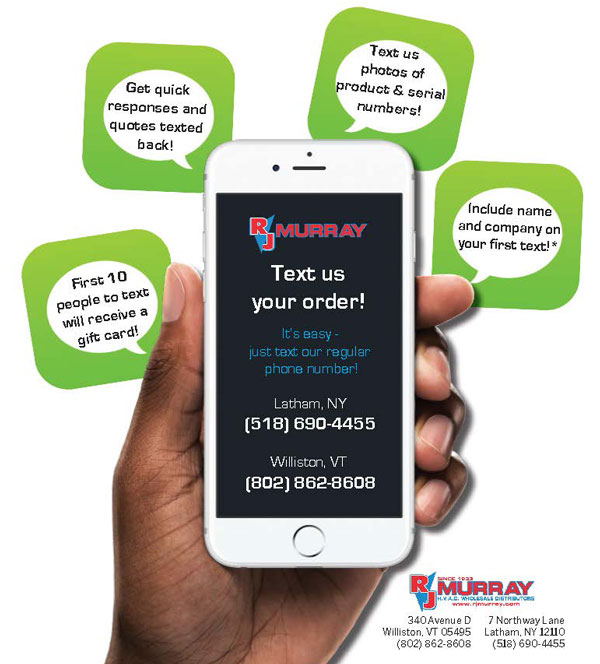 NEW! For quick answers, quotes, inquiries, and orders, you can text us at 518-690-4455 (NY/MA) or 802-862-8608 (Vermont).
For aftermarket parts, you need a company you can rely on to provide quality products at an affordable price, all in one place. For more than 85 years, RJ Murray Co. has been doing just that.
We have access to dozens of parts brands, but our main brand, Totaline is the major aftermarket brand. When you consider our numerous product and equipment offerings, it's easy to see how our Totaline brand parts and supplies can help you get what you need to keep your business running smoothly.
If you're looking for the fastest, easiest way to repair your customers' Carrier, Bryant or Payne® equipment, you should know that Factory Authorized Parts are always the right choice. When you choose to install a Factory Authorized Part, you'll not only find an exact, drop-in replacement, but you'll also find an option that maintains original OEM efficiency – that means less time on the job for you, and a better solution for your customer.
In addition to the above, we also offer all of these brands:
Airex Filters - HVAC Filtration Products
Armacell - Pipe Insulation
Aspen Manufacturing - Coils & Air Handlers
Boss - Adhesives and Sealants
Carrier - Factory Authorized Parts
Copeland - Compressors
Danfoss - Compressors
Diversitech - Equipment Pads
Dynatemp - Refrigerants
Edge - Safety Eyeware
Emerson - Motors and Controls
Factory Authorized Parts - Carrier & Payne FAP
GeneralAire - Air Cleaners
Honeywell - Controls and Thermostats
Honeywell/Genesis - Wire
JB (Just Better) - Pumps, Valves, Fittings
Kidde - Smoke/CO Alarms
Lenox - Tools
Little Giant - Condensate Pumps
Mars - Motors and Controls
Mill-Rose - Brushes
Mueller Industries - Copper, Linesets and Fittings
Parker - Valves and Accessories
Payne - Factory Authorized Parts
Puralator - Air Filters
Quick-Sling - Stands and Brackets
RectorSeal - HVAC Accessories
Reznor - Factory Authorized Parts
RIB - Functional Devices, Relay in a Box
Ritchie/Yellow Jacket -Charging Tools and Accessories
Sporlan - FIlter Driers
Supco - Protection Devices
Superior/Sherwood Valves - Ball Valves
System Sensor - Duct Smoke Detectors
Tecumseh - Compressors
Totaline - Full Catalogue of HVAC Parts and Supplies
Vimco - Vibration Mounting Parts
White Rodgers - Thermostats and Controls
Z-Flex - Chimney Liners