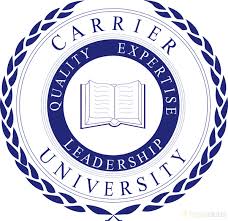 RJ Murray and Carrier have a long history of providing quality training to the HVAC industry.
Engineers, dealers, and distributors have attended HVAC training classes at our office and online through Carrier's HVAC Partners portal.
For those who cannot attend RJ Murray's on-site classes, Carrier offers online classes and training materials for commercial work that can be used for self-study or for instruction.
Carrier University's Seminar Series are delivered as in-person lectures, through locally delivered pre-recorded presentations or in on-demand formats. Seminars cover topics on HVAC systems, applications, and the impacts of codes and standards.
You can find training courses, videos, and other resources for commercial work at Carrier University.
Questions? Contact us.