RJ Murray Announces Carrier Dealer Completes First Online Certification
Latham, NY – RJ Murray Company is proud to announce LaPan's Precision, a Carrier HVAC dealer located in Queensbury, NY, had two technicians attend the first virtual training session in the country to complete the second tier of the Carrier Controls Experts Program.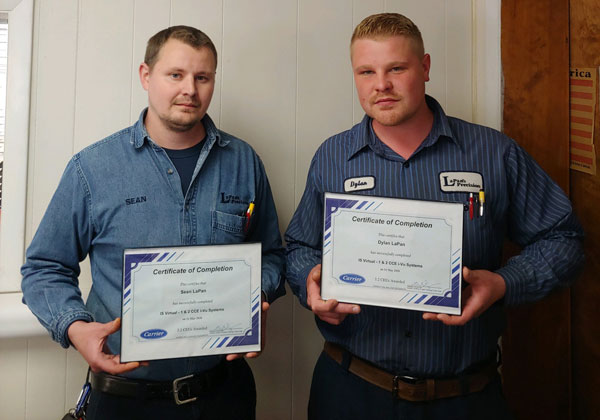 LaPan's Precision is a locally owned, family operated HVAC company. Second generation LaPan brothers, Sean (CSC Manager) and Dylan (CSC Site Supervisor), were previously certified as Carrier Controls Experts for the first tier of Comfort Systems (CS). Their latest certification means they are now certified as Carrier Controls Experts for the second tier of i-Vu systems.
This certification authorizes the company to sell and install complete HVAC control systems that include rooftop units, unit ventilators, fan coils, water source heat pump, VVT/VAV zoning systems, exhaust fans, unit heaters, small air handlers, and the iVu web user interface.
"This certification provides a true reflection of the quality and expertise Carrier dealers must possess," said Robert Murray, President of RJ Murray. "We are pleased to offer ongoing training to HVAC dealers, both onsite at our two locations in Latham, NY, and Williston, VT, and through new virtual classrooms offered online through Carrier."
"We are proud of both Sean and Dylan for their diligence and hard work in completing the first two levels of the CCEP through Carrier," said Beecher LaPan, President and Founder of LaPan's Precision. "This allows our company to become a single source provider of equipment and controls and ensures our commercial and industrial customers the highest level of service and complete peace of mind."
Factory-hosted virtual classrooms offered by Carrier Corp. trains, tests, and certifies HVAC contractors to be experts in Carrier's building controls. Ongoing training and testing allows certified contractors to maintain extensive knowledge of the i-Vu building automation system.
About R.J. Murray Company:
Founded in 1929 in Schenectady, NY, RJ Murray Company, Inc., is Carrier Corp.'s oldest operating distributor. After launching the company, founder Richard Murray Sr. caught the attention of Dr. Willis Carrier, who encouraged Murray to join a young Carrier Air Conditioning Co. in 1933.
RJ Murray, a family owned, fourth-generation company, offers a full line of HVAC products, parts, and accessories from more than 200 industry leading manufacturers.
Operating from two locations (Latham, NY, and Williston, VT), the HVAC wholesale distributor provides sales, training, and 24-hour service and support to over 500 dealers, contractors, government, and industrial accounts across eastern New York, Vermont, and western Massachusetts. For more information, visit www.rjmurray.com
RJ Murray also supports the Northeast Carrier Dealer Group, Upgrade To Comfort, and a consumer website where homeowners can learn about new heating, cooling, and ventilation products and systems, DIY tips, and other helpful information.
About LaPan's Precision:
LaPan's Precision was founded in 1985 by Beecher LaPan. Now in its second generation, the company's vision is to bring the best quality services to residential, commercial, and industrial HVAC customers. Located in Queensbury, NY, the company serves the greater Glens Falls, Saratoga, and Lake George regions of New York State. For more information, visit www.lapansprecision.com.